"

Jewel with an edge"
— IEBA
bio
For Publicity:
Award-winning country artist, AJ Jansen, knows that great music starts with a long background of pursuit, determination, and passion. With encouragement from her family, her musical aspirations grew into a blossoming, successful career as a new, emerging country singer-songwriter. Known for her "instinctive rhythms and catchy lead guitar lines" (Chris Neal, Music Magazine), Jansen seamlessly mixes elements of classic rock with the heartfelt vulnerability of country music. How did she become this "Rebel Rose" this "Jewel with an Edge"
Growing up in Connecticut in a Polish American family was a far cry from Southern Country Music roots,  AJ's grandpa fought in WWII and came to this Country for a better life and so it happened. AJ grew up with musical influences in the home, from cousins playing harmonica, friends playing accordian, guitars being strummed to Rock and Roll and the Outlaws playing in concert on TV and on the Radio. 
AJ would observe bands perform every weekend in various venues and various genres, she studied and learned from the best all along creating her own musical identity among the best in American Music, from folk to rock to Country learning about her ethnic roots and family musical history where folklore music and american music married together and created an All American Artist that naturally wrote Country music lyrics and melody. God, Family, friends, people and Country were respected and highly valued in AJ's life and still and its something that shaped AJ's musical career. Music was a means for laughing, thinking, loving and a way to forget about everyday life's struggles and worries. It is medicine for the soul.  And if that's not Country Music then what is?  That's AJ Jansen
Today, Jansen has released five successful country albums, each with a unique blend of heartbreaking ballads and sassy up-tempo classics. Her latest album, Bourbon & Roses, garnered her a second nomination for "Best Country Act of the Year" with The New England Music Awards. The Connecticut Country Music Association (CCMA) also recognized Jansen as "Best Female Modern Country Vocalist" and "Best Recording" for her original single, "Moments." AJ also attended the national championships for the North American Country Music Association (NACMAI) in Nashville, TN, where she won the NACMAI Horizon "Female Vocalist of the Year" and was a finalist in Jim Halsey's Starmaker Competition at Coach's Cabana. Jansen is a proud member of ASCAP, Music Row, CMA, and the IEBA. 
While Jansen is humbled by the accolades, her focus has always been on performing live. Some of her favorite venues over the years have included New York City's famous performance venues like The Bitter End and The Living Room, as well as Nashville's iconic Tootsies, Sound Check, and as a regular on Billy Block's radio show. Jansen has also performed extensively in the New England region with special performances at the Stafford Motor Speedway and on the Red Bank Concert Series, as well as opening for Phil Vasser. Regardless of the venue, Jansen strives to create music that is both engaging and memorable. Jansen has been compared to "Jewel but with an edge" by Nashville's own International Buyer's Association and she is excited to see where her musical journey will take her next.
On The Fiddle CAT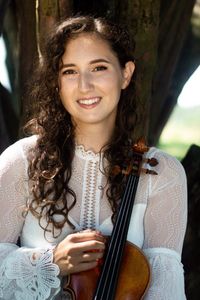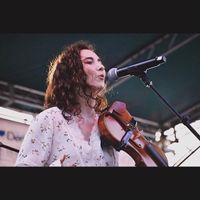 Texas born & raised violinist Cates is steadily making a name for herself as a country/rock performer and renowned private lesson teacher. Cat began her violin studies at age 8, and participated in school orchestra programs throughout her education. However, equally influential in her musical upbringing was her attendance at the Mark Wood Rock Orchestra Camp for ten consecutive years. Created by Trans-Siberian Orchestra founder and Grammy-Award winning electric violinist Mark Wood, this camp introduced her to rock, pop, blues, jazz, experimental music and more, and also fueled her love of songwriting and performing onstage.
       In 2016, she moved across the country to study Music Education at Manhattanville College in Purchase, New York. There, she connected with an up and coming Country/Rock band, which later debuted as "Raquel & the Wildflowers" and would go on to open for notable artists Jessica Lynn (Daryl's House, 2018). Skeeter Creek (Rockin' on the River, 2019), and Andy Grammer (Stamford, 2019). During this time, she also began teaching violin lessons privately throughout New York and Connecticut. Cat graduated with honors from Manhattanville College in Spring of 2020 with a Bachelor's of Music in Music Education and plans on continuing to pursue careers in both performance and education. Cat currently also plays with Redding, CT-based band North County Band and looks forward to performances with AJ Jansen and more as live music returns!
Lead Guitarist CHUCK BECKMAN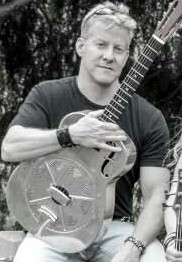 Born in Del Rio, TX, and currently living in Milford, CT, Chuck Beckman has been an active studio and live performing guitarist for many years.  His expressive, melodic style is similar to Warren Haynes, Billy Gibbons, Joe Walsh, and Joe Bonamassa.
Chuck has recorded many albums as a session guitarist in both CT and Nashville, TN.  Currently recording with AJ Jansen, He has also recorded with country artist Holley McCreary,  Jeff Cannata, James Mauri, and many others.  His solo album (Beckman: Lonesome Road) is available on most digital platforms.
Drums and Percussion  Dan Torretta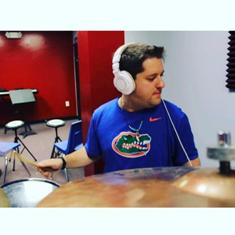 Dan's first encounter playing the drums was at the age of 14 when he started high school and began taking private lessons on the snare drum.
Two years later, he began to practice on the drum set. In his junior year, Dan starting playing drums and percussion for his church choir in his hometown of Waterbury. At the same time he joined Prospect Drum Corps and started playing marching percussion. With the drum corps he played in parades and competitions all around New England.
After high school, he attended Naugatuck Valley Community College to study Visual and Performing Arts where he studied Music Theory with Richard Gard (Current professor at Yale University). He later transferred to Western Connecticut State University and graduated with BA in Music where he studied percussion with David Smith (Principal Percussionist for the New Haven Symphony Orchestra).
After college, he began working at RVP Studios in the West Haven, Connecticut where he worked as a teacher and a sound technician for live entertainment for local bands that played "The Cave" a music venue associated with RVP Studios in the New Haven County.
While Dan was building his roster of students and running sound for live bands and events, Country Singer/ Songwriter AJ Jansen was recruiting and auditioning drummers for her touring band. Dan went and auditioned for her in 2014 and since then he is her current touring and recording drummer. Playing with AJ Jansen has opened the door for him playing on the country music scene in New England and in Nashville, Tennessee. He has had the experience being the opening act for artists such as James Otto, Trick Pony and John King who are national acts currently viewed on CMT.